10/28/21:
MAJOR UPDATE!
Welcome back everyone! It has been well over a year & a half since the last update. SO MUCH has happened, so let's start with the New Release! While we here at ORBYNOT are searching for an official brand new lead singer, we have just released a BRAND NEW EP called "The Ripper Sessions" on October 8, 2021 featuring Tim "Ripper" Owens of KK's Priest, The Three Tremors & formerly of Judas Priest just to name a few. Ripper lends his vocal talent on not 1, but 2 AMAZING tracks called "Ripped to Shreds" & the ballad "Until We Meet Again". This is a Digital Only release, so the only way you will be able to listen to them would be via Download or Streaming! And not even 17 days after its release, ORBYNOT has become 95.9FM WRAT's Jersey Rock Video of the Week w/ the lyric video of "Ripped to Shreds"!! Be sure to enjoy & tell your family & friends of the New EP as there will be more new ORBYNOT coming in the future!! Thank you so much for all of the friends & fans that have supported us!!
(Click on the pic to take you to the article)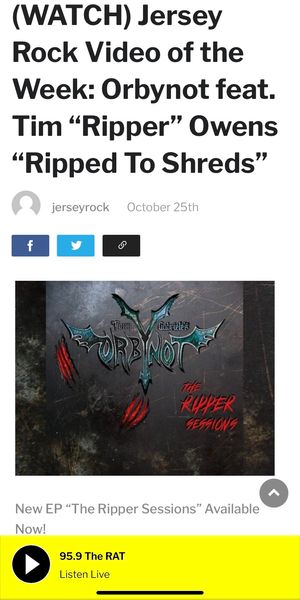 01/17/2020:
WELCOME BACK EVERYONE!
Yes, the website has been delayed with updates as the website provider has been changed, so allow me some time to get used to the new set up after having the old way for the past 8 years. Anyways, November & January have been some killer musical moments for us here in the ORBYNOT camp! Back when we opened up for Last in Line, our very own Metal Rose got to do sound check with them while she got to perform the Dio classic "Rainbow in the Dark'! After that show, we ended up just recently opening up for our friend "Bumblefoot" (Sons of Apollo, Asia & ex-Guns N' Roses) at our hometown venue of DingBatz. At the end of his set, Ron invited us all on stage to perform 3 classic covers with him from the famous bands of Iron Maiden, KISS, & of course Guns N' Roses! With winter here, we will be focusing work on new material as we will be trying to get in the studio for our 4th studio album! Stay tuned as we have more in store for you all!!
11/8/2019:
MAJOR UPDATE AGAIN!!
Once again, updating this site slips through the cracks as we have been busy rocking out releasing a 2nd music video (which also became 95.9 WRAT's Jersey Rock Video of the Week!), started recording our 4th studio album, prepping to release a 3rd music video, played a Halloween Show in Staten Island NY, & now we're about to open up for 3/4 of Dio members in Last in Line at Debonair Music Hall tomorrow night Nov 9, 2019 in Teaneck, NJ!! We are extremely excited about this opportunity & hope everyone can make it out!!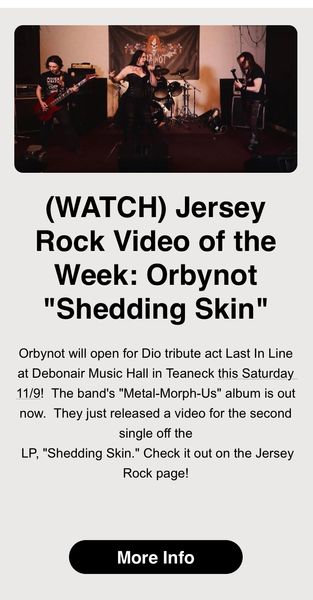 (Click the Pic for the Article & Video)
7/16/2019:
MAJOR UPDATE!!!
Sorry about the delay from our last post. We here at ORBYNOT have been so busy kicking ass, that we haven't had the time to update our official website! Where do we begin? Well.. back on Sunday March 3rd, we had a kick ass show with the Three Tremors & not even the huge snowfall could've stopped us as we celebrated Metal Rose's B-day! Right after that, we became Jersey Rock Band of the Week on 95.9 WRAT, we worked on & released our VERY 1st Music video EVER for our song "Bury the Dead" from our latest album Metal-Morph-Us!! Not to mention we became Jersey Rock Video of the Week on 95.9 WRAT, we got featured as the Hard Rock Alarm Clock on 103.7 WMGM, & we just became 105.5 WDHA's 1st band to be chosen for their brand new segment "UnSigned Heroes"!!! Along with all of this radio press, we just recently rocked out Roxy & Dukes this past Saturday & now we will be rocking the stage at Unity Fest this Saturday at the Brighton Bar in Long Branch, NJ & then closing out the summer as we will be direct support for :::KillCode::: at Stanhope House in Stanhope, NJ on Saturday August 31st!! If you need tix, please hit us up here or on any social media page as your support is greatly appreciated!! Stay tuned to the social medias for the latest updates as they happen & we hope to see you at a show!!!
(Click the pictures for the links)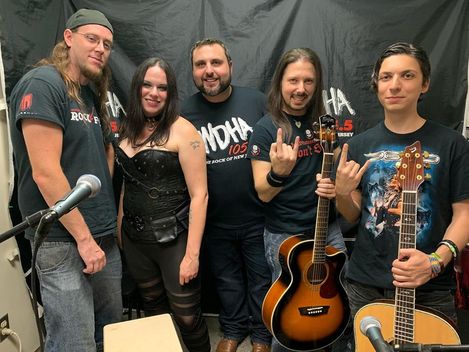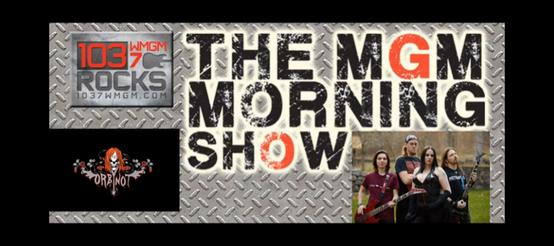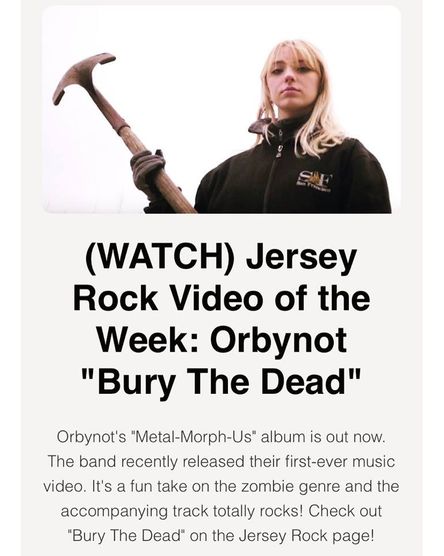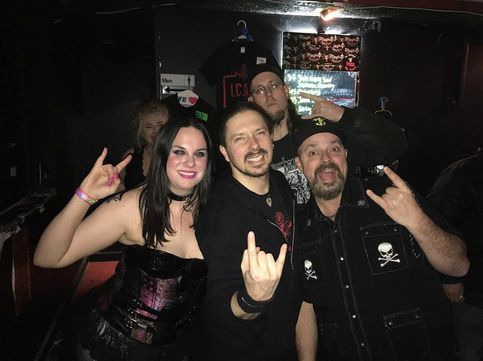 1/28/2019:
Fresh off from being 95.9FM WRAT's Jersey Rock Band of the Week, we have our eyes focused on our next big show!! That show is opening up for The Three Tremors on Sunday March 3rd which also happens to be our own Metal Rose's Bday!! Tix for this show are $15 advance & $17 at the door!! This is an all ages Sunday afternoon show, so bring everyone & don't miss out!! If you would like a ticket, send a message on the contact us, or find us on social media & hit us up there!!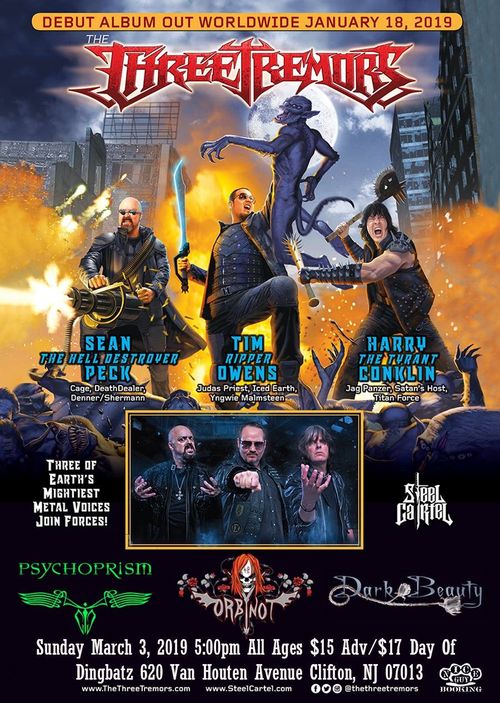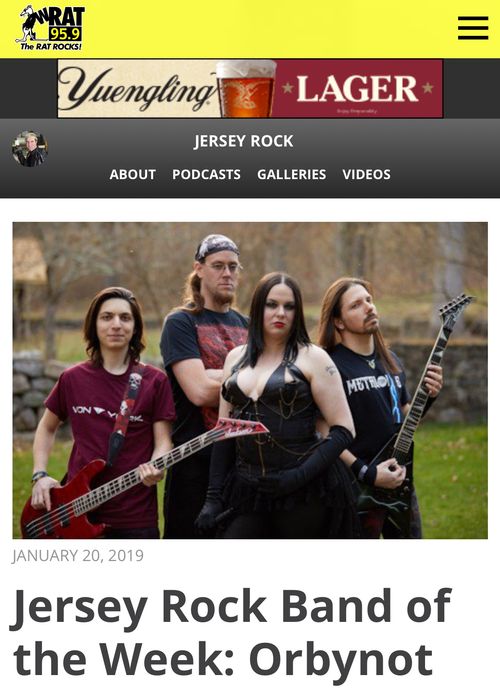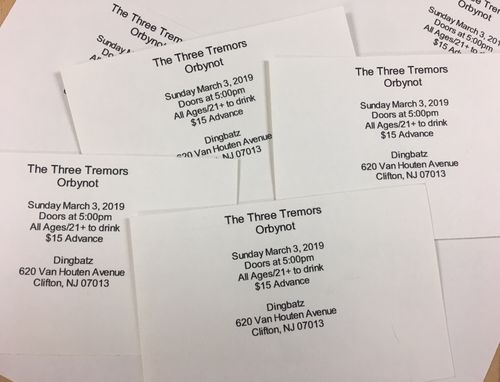 Happy New Year everyone!! Our 1st show for the year is a headlining show at a Brand New location for us as we make our debut at Roxy & Dukes in Dunellen NJ!! Tickets are $10 at the door & you don't want to miss this extended 45 min set!!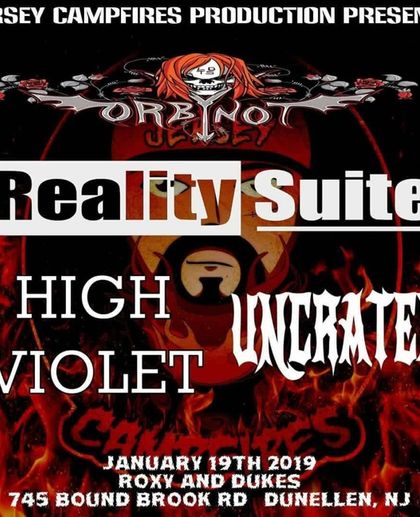 12/15/2018:
We here at ORBYNOT want to say a Big THANK YOU to everyone that came out & rocked out with us at our "Metal-Morph-Us" CD release show & TonyBro's Bday bash with Powerglove!! The night was a huge success and we couldn't be happier!! If you want a stocking stuffer for someone this holiday season, be sure to check out our store for the New Album! $12 for the CD or get an instant download:
For the New Album ($10 Digital Download)
 https://store.cdbaby.com/cd/tonygabrielesorbynot4
For the Instrumental Version ($8 Digital Download)
https://store.cdbaby.com/cd/tonygabrielesorbynot12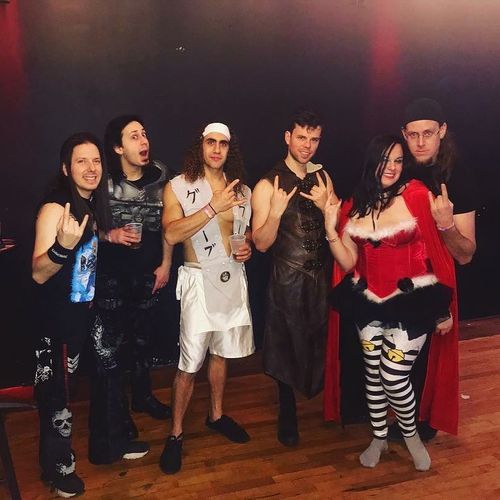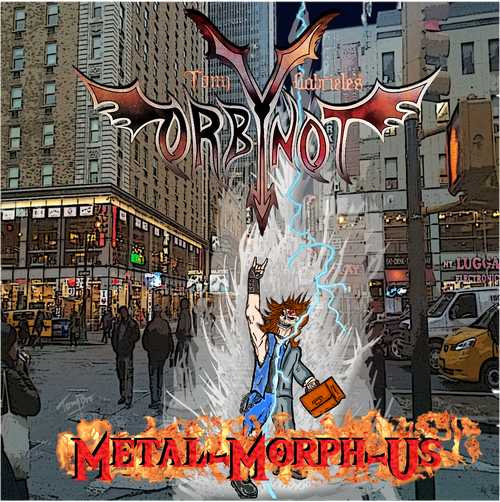 11/20/2018:
Hey everyone!! With the holidays coming faster than you think, we here at ORBYNOT have amazing news!! Right off the bat, our 3rd Full Length album Metal-Morph-Us will be released Worldwide THIS Friday November 23rd on all digital media outlets w/ physical discs to follow shortly. & to go along with that amazing news, we have our CD Release show booked co-headlining with the incredible Powerglove at Dingbatz on Monday December 10th!! Not only is this gonna be one hell of a show, but it's going to be TonyBro's Bday Bash as it happens to fall on his birthday too! So get your advance discount $13 tix from us, & come celebrate the new album release & a birthday with us all!! Tix are in hand now while they last. Message us on here, Facebook or hit up a band member!!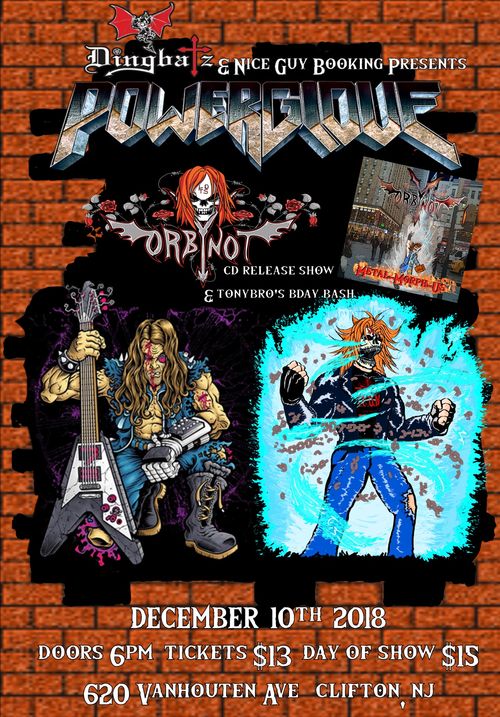 10/23/2018:
Hey guys, we'd like to thank everyone that came out & rocked out with us for the Metal Mike show & as we headlined our 1st all day music fest Campstock 2018!! These past 2 shows were so incredible & fun, that we can't wait to see what our next shows will be!! Speaking of what's next, our 3rd full length album should released sooner than you think!! Follow our social media pages for the latest up to minute news as we will post here as well. Thank you again & stay tuned!!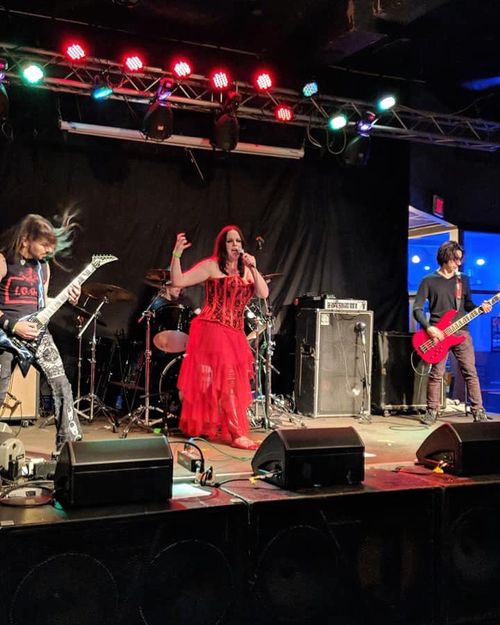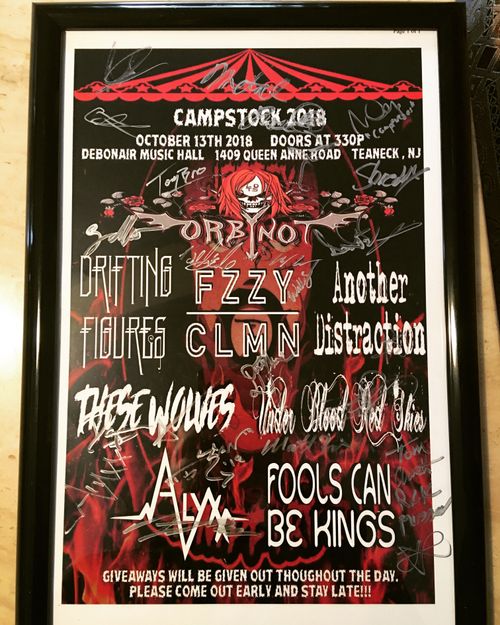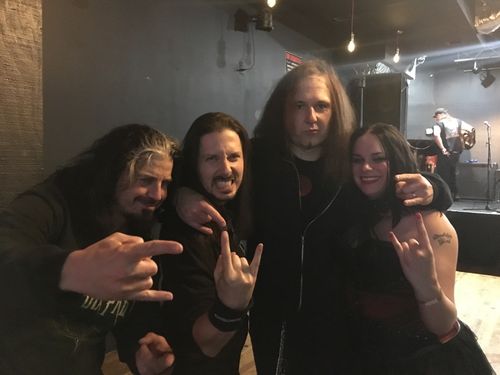 08/11/18:
Hey everyone! Thanks for all who came out & rocked Sticks & Stones w/ us!  As summer is getting close to an end, we have 2 MAJOR shows lined up for the Fall! 1st one is on Friday September 28 at Dingbatz as we once again open up for our metal mentor Metal Mike of Halford ($15 tix)! The 2nd is on Saturday October 13 at Debonair Music Hall as we co-headline Camp Stock all day music fest ($10 advance tix)! Tix are in hand for both shows, contact us here, on Facebook or a band member to get your advance discounted tix!!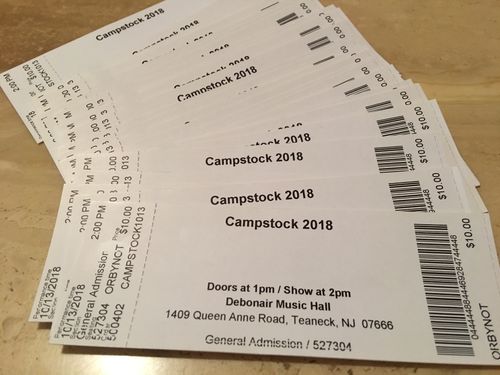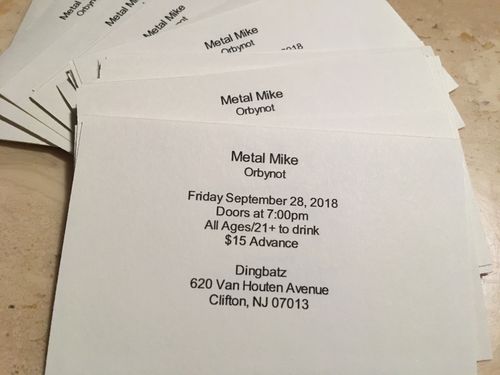 06/05/2018:
Tho a little late posting due to constantly working on the new album, thanks to all that attended our last show at Debonair Music Hall!! Our next show, we will be making our debut at Sticks & Stones in Hawthorne NJ on Saturday July 7th! There will be no advance tix sold for this one as it will be $10 at the door! So come out & rock with us as we show this new venue what ORBYNOT is all about!!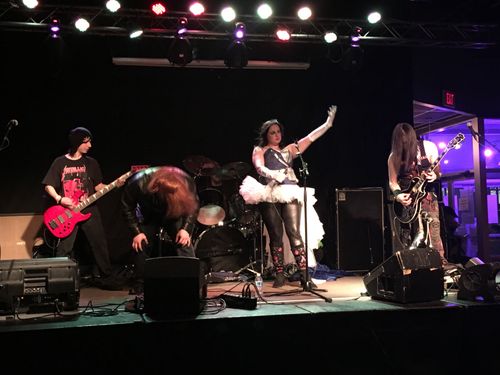 04/13/2018:
We are literally 2 weeks away from our next show at Debonair Music Hall (formerly known as Mexicali Live)!! We have discounted advance tix in hand they are $10 from us & $15 at the door!! So save a 1/3 of the price & message us here or one of the band members through social media, can't wait to see you there!!!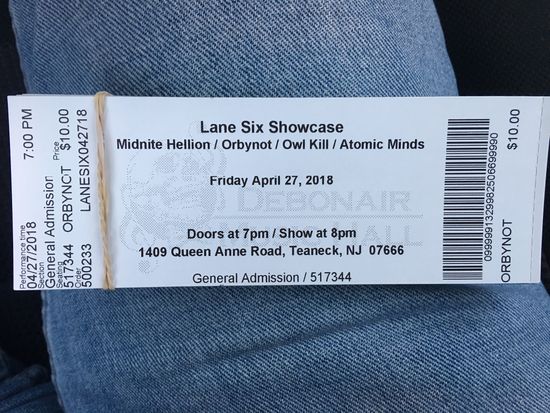 03/30/2018:
Thanks to everyone that came out and rocked out with us last Friday during our show with Judas Priestess!! We played to a PACKED House while rocking out a Secret Song set that consisted of ALL BRAND NEW UNRELEASED songs from our upcoming Album!! If you missed it, you missed out!! You never know what to expect at an ORBYNOT show, so don't miss the next on Friday April 27th at Debonair Music Hall in Teaneck, NJ!! Tix will be in hand shortly!! Stay Tuned...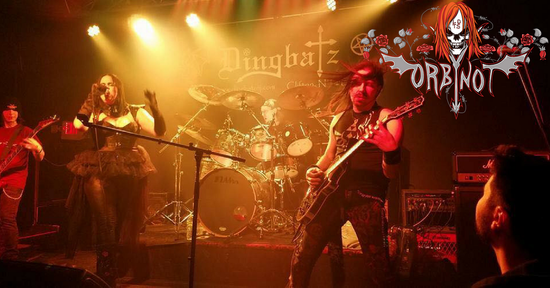 02/05/2018
Hey everyone!! Just in the mail today, we know have in hand advance discounted tickets for our next w/ our metal sister Judas Priestess on Friday March 23 at Dingbatz!! It'll be almost exactly 2 years since we last played w/ the girls at the Stone Pony, & this show will be even better!! Hillary Blaze our own special guest studio drummer featured on both the last album & new album coming out later this year, is the drummer for Priestess so come out & show some love!! Tickets are $12 in advance & $15 at the show. So message us & let us know you wanna join the fun!!!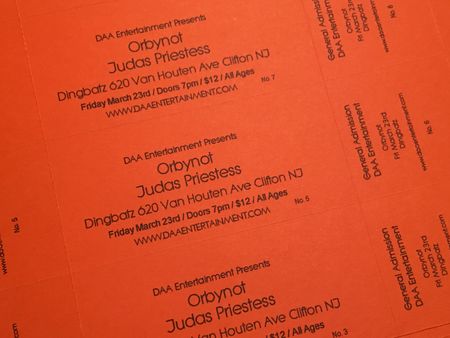 01/20/2018:
Hey everyone! Hope you had an amazing holiday & New Year!! We had an amazing show w/ our metal mentor Metal Mike & while we are still busy in the studio trying to finish up our 3rd album, our next show will be Friday March 23rd at Dingbatz opening up for our friends Judas Priestess!! Tickets will be in hand shortly for this one, can't wait to rock out again with all of you!!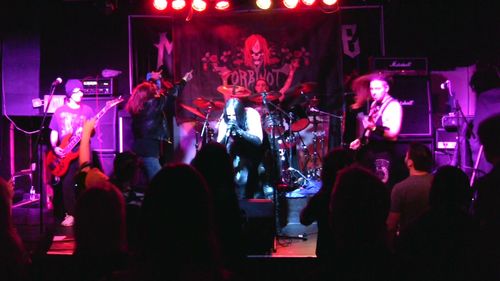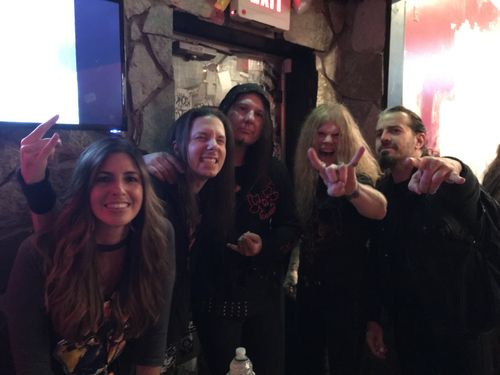 11/01/2017:
It's November & our next show is on Saturday November 18th at Dingbatz as we open up for our Metal mentor Metal Mike of Halford!! This is going to be one hell of an awesome night, so come join us & say you're there to see ORBYNOT at the door!! Also on the bill is Lyken21 & Fiakra $15 doors 8pm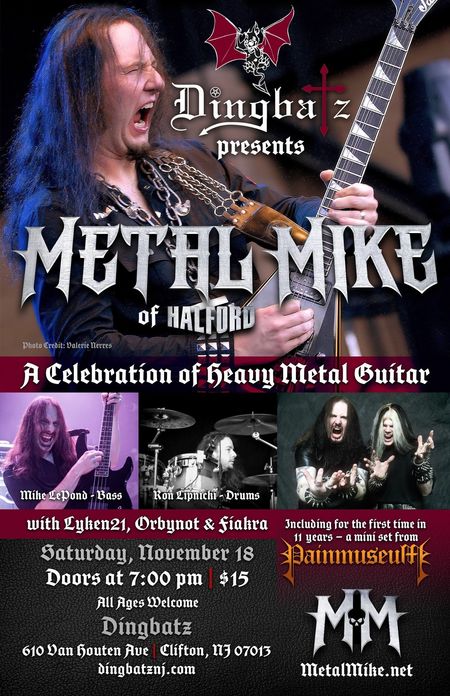 9/24/2017:
Tune in LIVE this Wednesday night on www.ThatMetalStation.com as we will be in studio talking new shows & the new album! Other in studio guests include Dead City Crown & Whiplash!!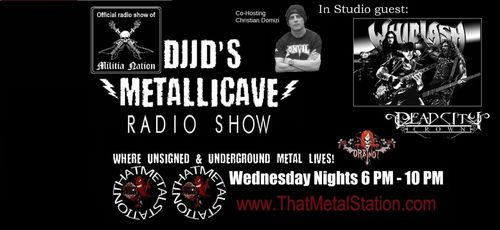 9/13/2017:
Due to circumstances beyond our control, the Xandria tour w/ Kobra & the Lotus & September Mourning has been cancelled. ORBYNOT WILL still be performing Saturday September 30th w/ our friends in Dead City Crown & Fiakra as all tix purchased from us will still be honored at a new low price of $10 each. For all who purchased tix from us, you can get a full refund, or come to the show & get a refund of $8 or $8 credit towards ORBYNOT merch for each ticket purchased. We will see you there!!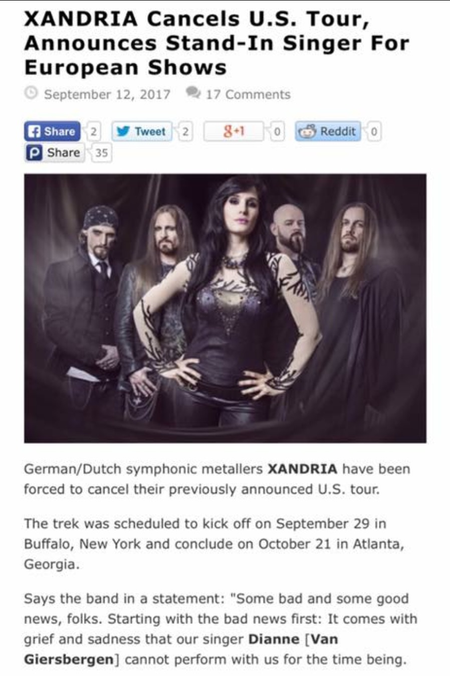 08/02/2017:
Well it took 7 years for one part of this next show to happen & took another 10 months to reschedule the other part, but they're both happening on the same show!! ORBYNOT will finally be opening up for Xandria & for the 1st time ever with Kobra & the Lotus!!! Tix will be $18 in advance, $20 at the door for Saturday September 30th at Dingbatz in Clifton, NJ. Also part of this show is September Mourning, our good friends in Dead City Crown & Fiakra!! You DON'T want to miss this!!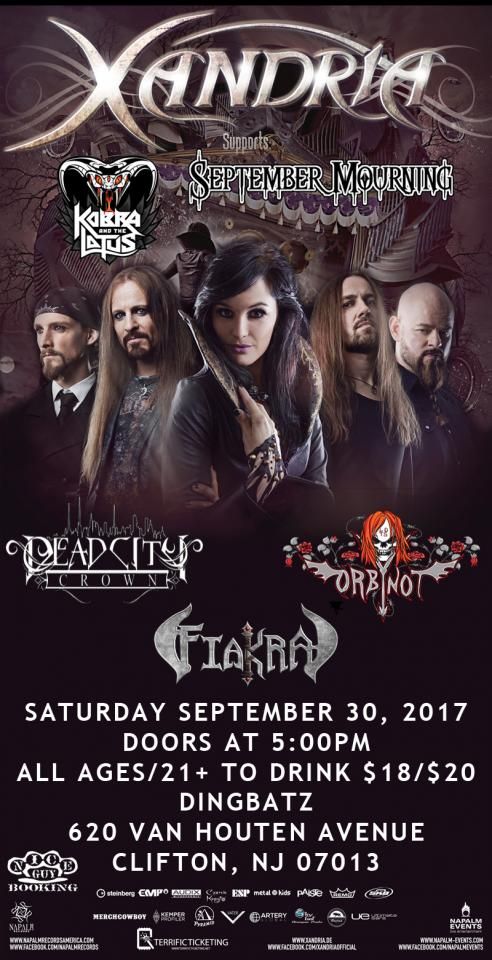 07/29/2017:
We here at ORBYNOT want to thank everyone that came out to our last show as we dedicated our set to Adrenaline Mob & David Z as a result of the accident they were involved in a week prior to our show. Our hearts go out to the AMOB family as well as David Z's own. Here's our last song of the night as we paid tribute w/ a cover of "Mob Rules".
6/27/2017:
ORBYNOT returns with what is considered to be our biggest show yet!!! We are opening up for Adrenaline Mob as they finish up their tour to promote their new album "We the People" on Saturday July 22 at Dingbatz in Clifton, NJ!! We are tagging in fellow Thanatotic Desire drummer Dave to help us out w/ this amazing show. Discounted tix ($20) are available through us & receive a FREE ORBYNOT Bandana or Drawstring Bag w/ every ticket purchase!! Click on tickets page or contact any of our band members to purchase!!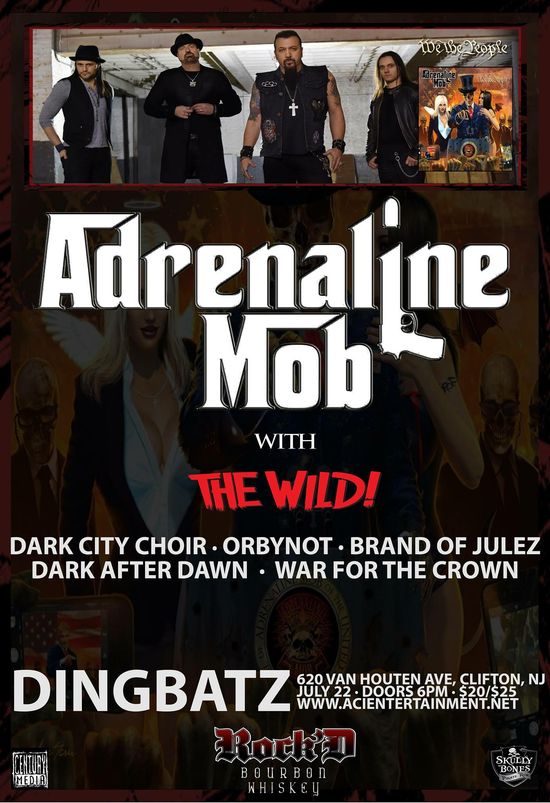 6/24/2017:
Last night many said ORBYNOT put on what was to be one of the best live performances yet! The place was packed & we were enjoyed & congratulated by metal mentor Metal Mike!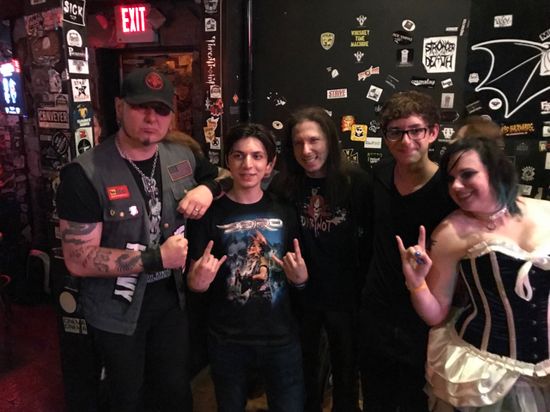 6/16/2017:
With Frost Metal Coalition having to cancel, the show has been converted to Michelle's Birthday Bash. Now with Nick & Dennis from Metal Heroes filling in on Drums & Bass, ORBYNOT will be tearing up the night w/ a 45 min set!!

5/22/2017:
After a bittersweet Saturday night involving an amazing set with our drummer Joe Billy bowing out, we are ready for our next show that will take place on Friday June 23rd back at Dingbatz in Clifton NJ!! For this show, not only are we reaching out tagging in a Metal Heroes Alumni drummer, but we will be debuting a brand new song!! & once again we will be sharing the stage with our friends in Blue Movie & Frost Metal Coalition!! So come out for this awesome night of metal!! Tix $12 in advance, $15 at Door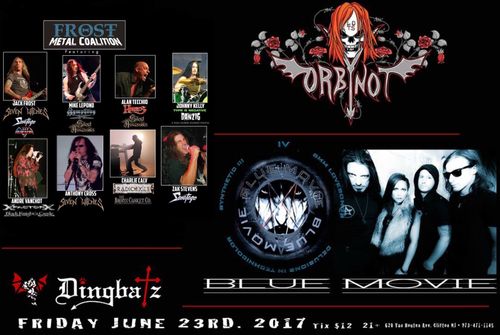 5/9/2017:
Next Saturday, we here at ORBYNOT make our debut at 10th Street Live Bar & Grill in Kenilworth, NJ!!! Be sure to catch us for an awesome night of Metal!!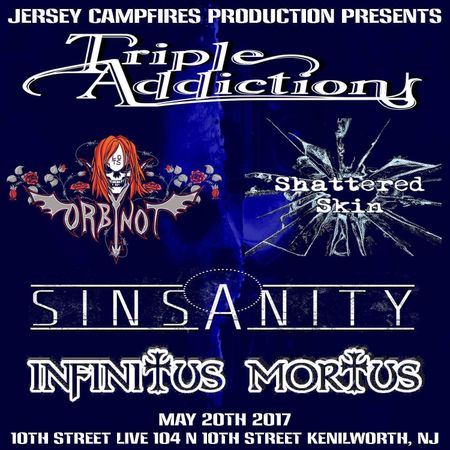 4/7/2017:
The big show has finally arrived as we will open the show tomorrow w/ a 40 min set starting at 8:20pm! Don't forget, this is a $5 show w/ free food, surprises & awesome bands!! You don't want to miss this!!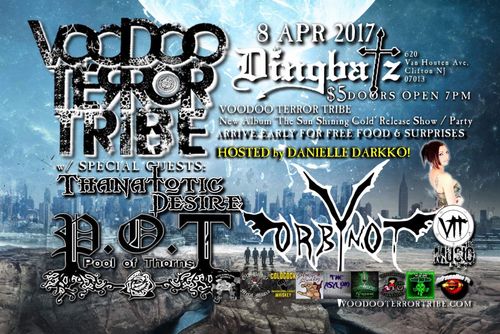 2/11/2017:
We wanna thank all of who attended our impromptu acoustic set for Metal Rose's bday bash!! It was def an awesome night!!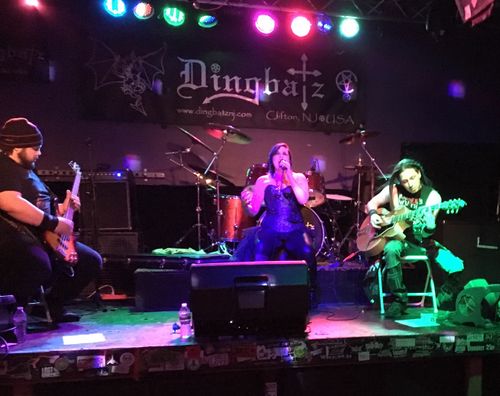 1/25/2017:
Happy New everyone!! Hope you had an awesome holiday as we're coming in with a triple update for you all!! 1st, we wanna thank everyone for coming out for TonyBro's birthday bash at Dingbatz, packing the house & making it our biggest show yet played to date!! Also a VERY special thank you to Metal Mike Chlasciak for joining us on stage as special guest for our final song of the night "Cyber World" by Halford!! Our 1st show of the New Year will be held at Dingbatz on Friday February 10 as we open up for the Black Sabbath TributeBand "Black Reign"! & a HUGE special show on Saturday April 8th as we will be joining our brothers in metal Voodoo Terror Tribe for their exclusive CD Release party for their new album "The Sun Shining Cold"!! You DO NOT want to miss this show as we will also be playing with Seas of Wake & Binary Code!! Hit us up for tix!!!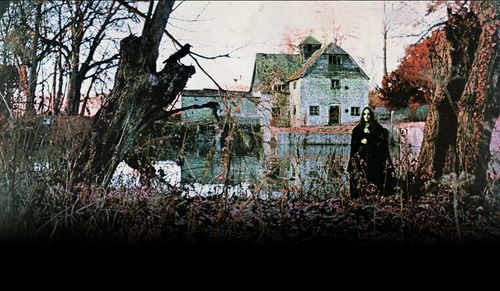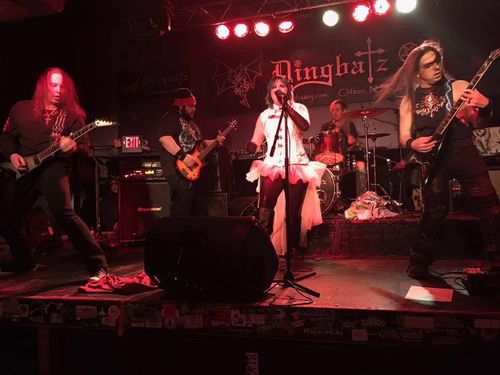 11/29/2016:
We have an amazingly awesome next show planned with a bunch of friends joining us in the lineup! Did we mention this is also TonyBro's birthday show on his actual birthday?! Come out & celebrate! Hit us up for advance discounted tix & save a few bucks for the bar!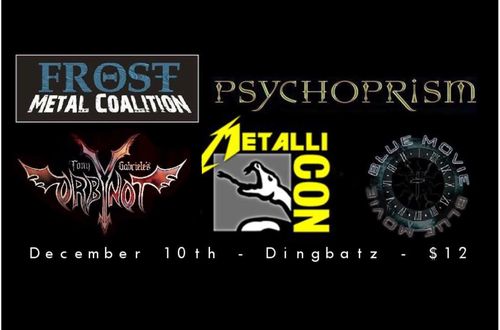 10/19/2016:
Our very own TonyBro was live in the the studio as a special guest on the MGM Morning Show w/ Matt & Karle on 103.7 WMGM Rocks!!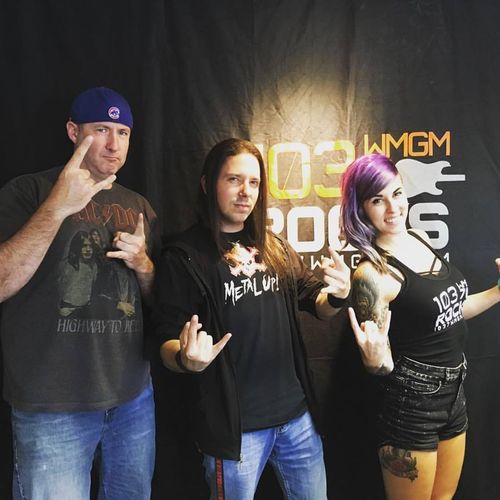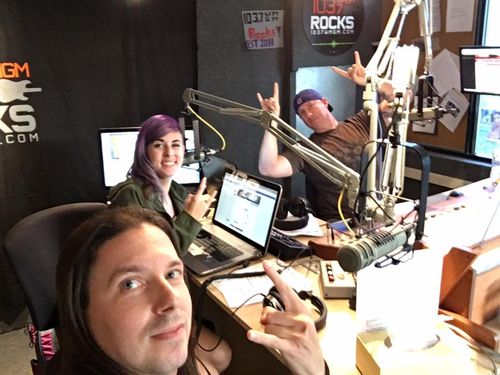 10/17/2016:
New show announcement!! With the cancelation of the Xandria show, we have now become part of a new show taking place on Wednesday November 2nd at Mexicali in Teaneck, NJ! Tix are $10 in advance, $12 at the door. If you have purchased tix for the Xandria show, we can swap these out for you w/ a $2 refund or we can give you the full $12 refund as we will be reaching out to each one of the purchasers personally. https://www.facebook.com/events/310199786001860/?ti=icl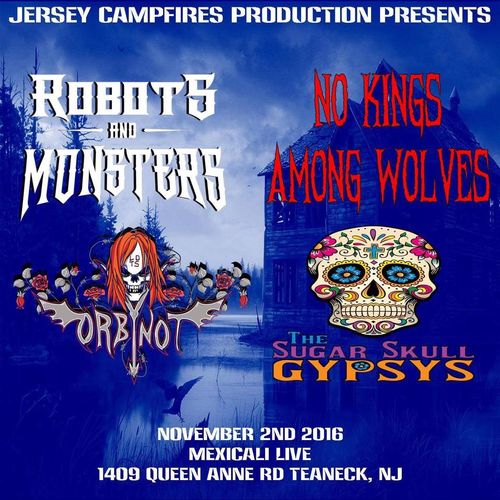 10/15/2016:
This is truly unfortunate as we have sold out of all the tix that we were selling. We here at ORBYNOT do apologize for everyone who was planning on attending this show as this is out of Xandria's hands. We will be refunding everyone who has purchased tix, we are just as bummed & sad as all of you. We'll keep you posted on any updates...
https://www.facebook.com/xandriaofficial/photos/a.10150327516135889.345707.22990570888/10154122829230889/?type=3
09/19/2016:
BIG ANNOUNCEMENT!!! We here at ORBYNOT are excited to share with you that we are opening up for our 1st international act XANDRIA!!! This is 1 out of the 4 US shows that they're doing & we're honored to be a part of it!! This awesome night will be held at our home DingBatz on Wednesday November 9th. We have discounted advance tix for sale for $12 each. Reach out to any band member or send us an email through the contact us on the side bar to the left.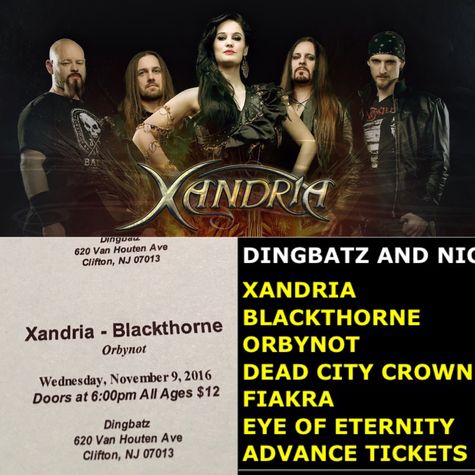 09/14/2016:
This Friday! ORBYNOT returns to Dingbatz to share the stage w/ Lyken 21 as part of their European Tour Kickoff Show!! Other bands included are Soul Sworn, WarHammer, & Eddie Milko Project! Don't miss out on this awesome show!!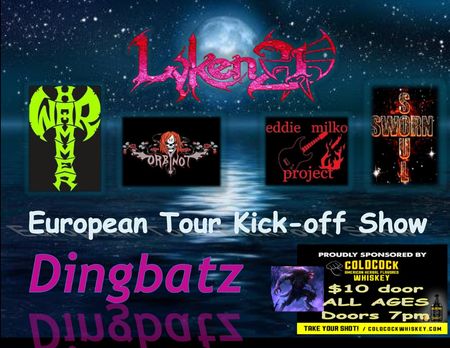 06/24/2016:
ORBYNOT is back with another major update! On Friday July 22, 2016, we will part of the official Guns N' Roses Fanspot/ Fan Meet Up Pre Show Party at Dingbatz in Clifton NJ!! Not only will this show be hosted by Don Jamieson of VH1's That Metal Show, but headlining will be NYC's own Guns N' Roses All Girl Tribute band Rocket Queens!! We are selling discounted tix for $12, so be sure to hit up any members of ORBYNOT or even send us an email on the Contact Us on the left bar!! Don't miss out on this show as we will be world premiering a BRAND NEW UNRELEASED SONG!!!!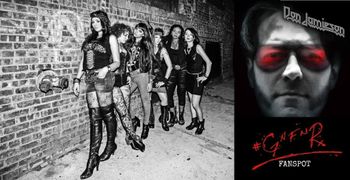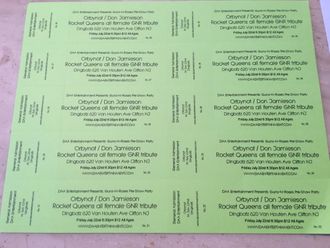 Also this past weekend, ORBYNOT was the 1st guests on our Sister in Metal, Jo Eastcoast's Brand New Podcast "Citrine Hard Rock Radio"!!! You can listen to our interview right here!!  (Click on pic)
05/12/2016:
This Sunday, if you're in the area, be sure to check out TonyBro & Metal Rose as they once again join Metal Mike Chlasciak on stage for the 4th Metal Heroes show at Dingbatz on May 15th at 1pm. $6 at the Door as we rock a brand new set of songs!!
05/04/2016:
Hey everyone! It's been awhile since our last update, but ORBYNOT has rocked BOTH the Stone Pony & The 1st Annual Lemmy Kilmister Memorial Show at DingBatz!! We had a great debut in Asbury Park, NJ along with an amazing 11 song set at DingBatz as we also performed Motorhead covers of "Rock & Roll" and "Ace of Spades". Our next show will be back at DingBatz in Clifton, NJ on Friday June 3rd as we perform w/ Death Metallic (Metallica Tribute), Dirty Black 7, Soul Sworn, and FireFight. $10 for that show as Doors open at 7pm.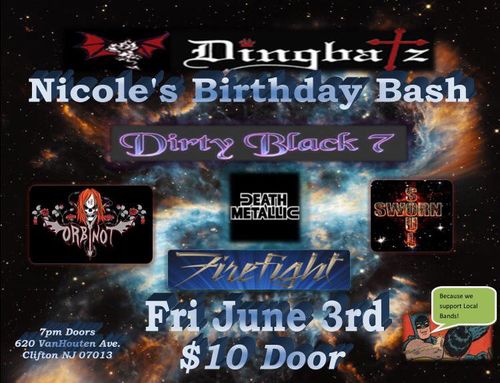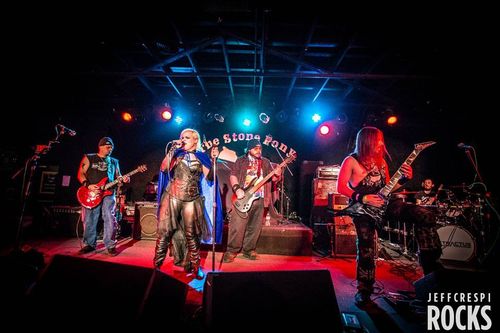 Major Announcement! ORBYNOT has 2 BIG Shows coming up! 1st up, we are playing at the Legendary Stone Pony in Asbury Park, NJ on Saturday March 26 while we open up for our friends, the World's Only All Girl Tribute Band to the Metal Gods, Judas Priestess! Discounted tickets can be purchased for $10 here on our tickets link to the left, www.orbynot.com/tickets
Our 2nd Show is back at our home venue of Dingbatz in Clifton, NJ on Saturday April 16 while we are part of the 1st Annual Lemmy Kilmister Memorial Show!! We have a special set planned for this show, so don't miss out!!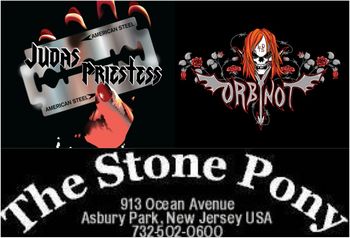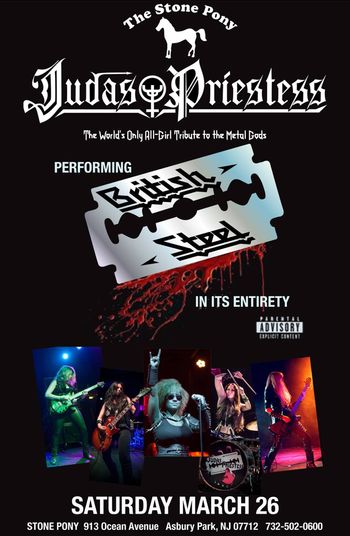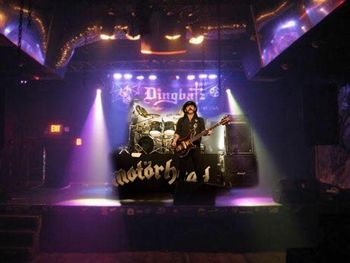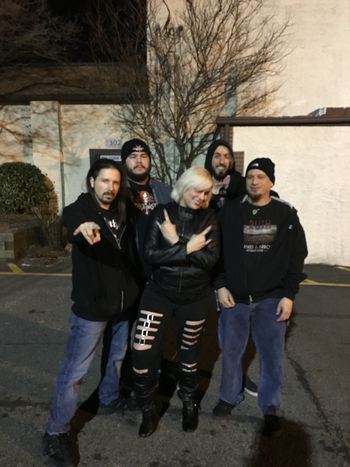 12/10/2015:
Ho-Ho-Holy Crap! Look at what came in the mail today! Just in time for the Holidays, you can get ORBYNOT's latest T-Shirt "Maiden's Wrath"!! Inspired by the Instrumental track of the same name on the album "Without A Trace", this shirt sports our Metal Maiden of Steel complete w/ LDTS Sword & ORBYNOT Shield. Gildan 100% Heavy Cotton Tee. Available in our Store for $15. Also, from now until the holidays are over, All other shirts are on Sale $10 each & CDs are $7.50 each!!!
While Supplies Last!!!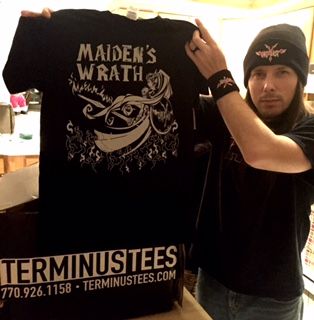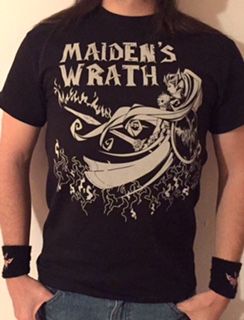 12/01/2015:
This just in, the ORBYNOT sale has been extended for the ENTIRE Cyber Week!! This great sale will come to an end Saturday December 5th. Get your ORBYNOT stocking stuffers while both supplies & savings last!!
11/27/2015:
'Tis the Season for some savings!! That's right, ORBYNOT is getting in on the Holiday Spirit with its 1st Ever Black Friday Weekend Sale!! From Now until Sunday Nov 29, Shirts and CDs are 50% OFF!! Get them while supplies last! Also, be sure to check out our new ORBYNOT Beanie, just in time for winter! And don't forget, $1 shipping per item!!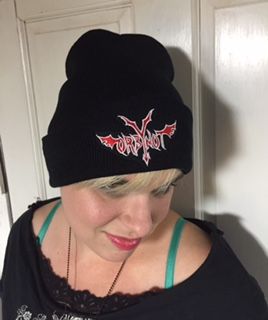 10/20/2015:
We here at ORBYNOT had an AMAZING time this past weekend sharing the stage with Resistance, Rabid Assassin, and of course Madame Mayhem! It was truely awesome to say the least! Also with such an amazing show, we also had the debut of our mascot Dusty Bones make his prescence on stage! And for those who missed out.... well, you missed out!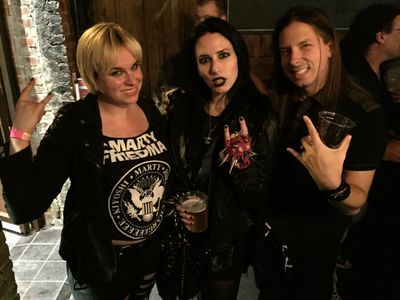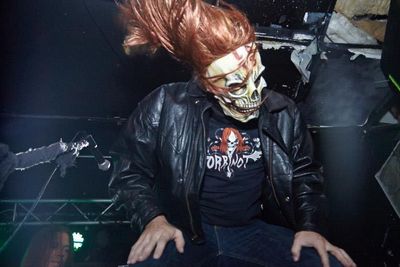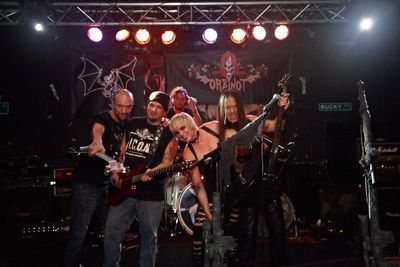 09/26/2015:
Hi everyone! We are back at it and we have some updates for all of you!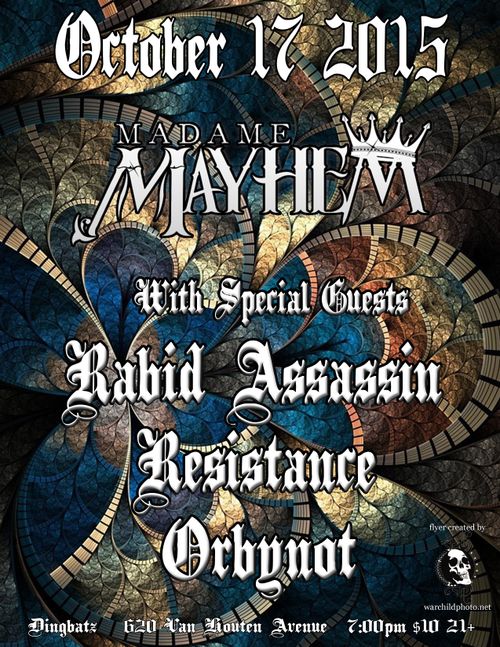 We are back in the saddle as we have yet another show lined up for you all! This time, we'll be opening up the night for Madame Mayhem as Rabid Assassin, & Resistance help top off the bill. Once again, we'll be at our home base of DingBatz on Saturday Night October 17, 2015! Doors open at 7pm & we believe tickets will be $10 in advance and $12 at the door.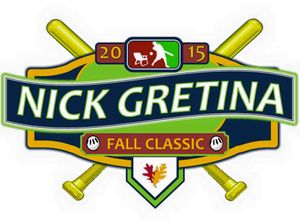 On Saturday October 3rd, TonyBro will be performing the national anthem at the annual charity event "2015 Nick Gretina Fall Classic Wiffleball Tournament and Homerun Derby" for the 3rd year in a row. Orbynot has been a sponsor for 3 years now & this year, the raffle basket we are donating is the biggest yet! It consist of shirts, koozie, wristbands, drawstring bag, necklace, guitar pics, autographed CDs, magnets, plus a 1hr guitar lesson/ jam with TonyBro. So if you're in the Wanaque area, come to Addice Park & support. There will be refreshments, raffles, great games to watch & all proceeds earned that day will be donated to Hope With Heart. 
On September 16, 2015, TonyBro & Metal Rose performed an acoustic version of "Enslaved" as we were guests on the "Rew & Who Show" in NYC.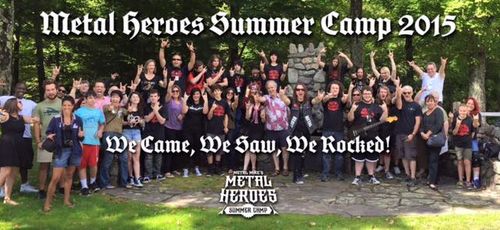 During the week of August 28, 2015, TonyBro & Metal Rose were asked to go visit and help out with the 2nd annual Metal Heroes Summer Camp. We here at ORBYNOT want to thank METAL MIKE CHLASCIAK & the all the members of Metal Heroes Summer Camp 2015 for letting us become a part of it!! We made new friends, fans, & overall had an amazing experience!! Here's to the next generation of metal!!!
07/13/15:
It's been almost a month since our CD Release Show and it has been nothing short of AMAZING! ORBYNOT packed DingBatz with Family and Friends who are very ready for their next show!! Here's the Full Set along with our Full Unedited Interview on 89.5FM WSOU!!
06/13/15:
Well we are one Week Away from the BIG Show, and we have some Killer updates!! Metal Heroes has come and gone with yet again another Very successful show! We have the Pix to prove it in the Photo Section to the left. And as we prep and get the Band Tuned up for the CD Release Show at Dingbatz, TonyBro & Metal Rose will be Live On Air in studio guests on 89.5 FM WSOU this Tuesday June 16 at 8:30pm Est!!! http://www.wsou.net/ If you don't get that station locally, bad reception or not in the NJ area, you can easily tune in with iHeart Radio app or even using the TuneIn App!!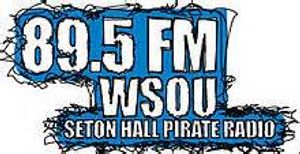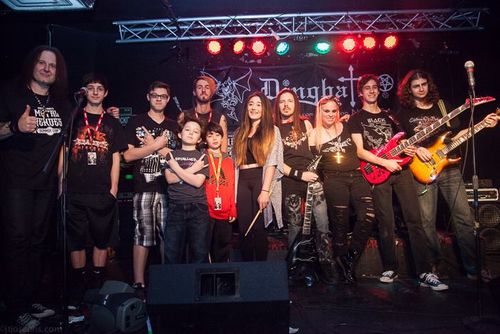 (Updates: Metal Heroes 2015 Pix in the Photo Section)
04/16/15:
For those who are fans and follow us on social media, then you are well aware that ORBYNOT and its members have TWO (2) shows coming up! (See why I always say to follow & "Like" us for exclusive and immediate Press releases??) That's right, 1st up is the show that brought us all together: Metal Heroes w/ Metal Mike Chlasciak on Saturday May 2nd at DingBatz and the 2nd show is the one we've ALL been waiting for: ORBYNOT "Without A Trace" CD Release show on Saturday June 20th at DingBatz in Clifton NJ!! For Metal Heroes, not only are we taking the stage again w/ mentor Metal Mike Chlasciak of Halford, but we will be rockin' tunes of Metallica, Megadeth, Judas Priest, AC/DC, Skid Row, plus more!! And for our CD Release show, we'll be sharing the stage with our fellow brothers in Metal Lyken21!! You won't want to miss either of these shows!!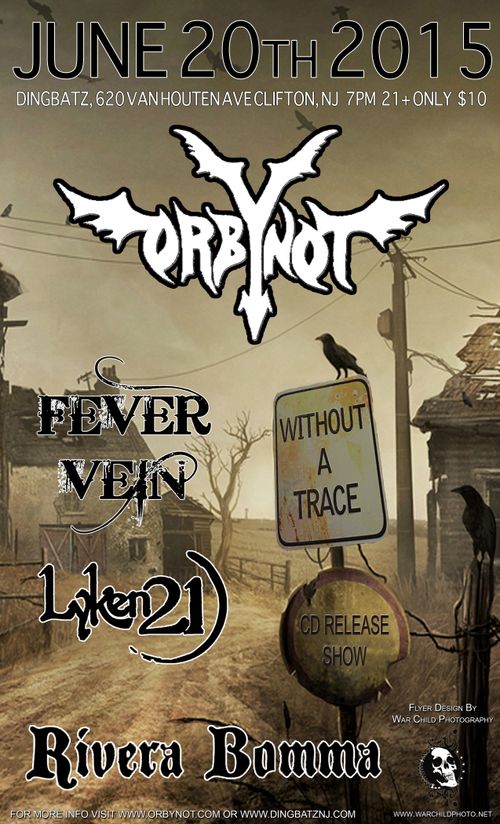 04/07/15:
Today is the day we've all been waiting for! The New Album is on Sale NOW in the ORBYNOT Store!!
Also available on
Also Updated on the site: New Photo Shoot 2015 Gallery added, "Without A Trace" Review (9/10) from TrueMetalLives.com added to Press/ Reviews Page.
03/11/15:
Major Update!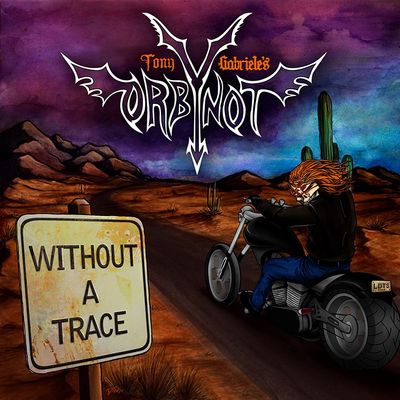 With so much that has happened since September's update, the New Album "Without A Trace" is DONE!! and has a Worldwide Release date of Tuesday April 7, 2015!! We here at ORBYNOT are extremely excited to finally unleash this beast that has been waiting to see the light of day! Of Course a new album can't go without a Listening Party!! That's right, 2 1/2 weeks before it's release, the whole world is invited to tune in and listen to the Entire Album Playthrough on http://mixlr.com/headbangers-cafe on Thursday March 19 at 8:30pm est. Along with a New album and listening party, comes New Merch!! Now available in the ORBYNOT store, we have Koozies, Drawstring Bags, AND a Brand New T-Shirt!! Also, from now until further notice, ALL Shipping and Handling is just $1 per item ordered!! And if you spend $10 or over, you'll receive a FREE Magnet! $30 or over, you'll receive a FREE Drawstring Bag!! (Does Not Include Shipping and Handling Fees). This is our way of saying "Thank You!" to ALL of our fans!! Don't forget to "Like" us on Facebook, "Follow" us on Twitter/ Instagram, and "Subscribe" to us on youtube for exclusive updates. So... Swing by our store, tune in for the listening party, pick up your copy of the new album, and of course.. Tell all of your friends!! LDTS!!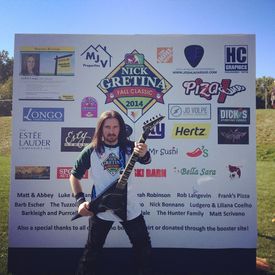 (TonyBro at the Nick Gretina Fall Classic 2014)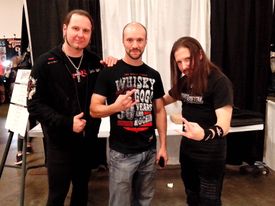 (Metal Mike & TonyBro w/ Andres of Lyken21 at the NJ Inked Out Tattoo Convention)
09/17/14:
Studio Update: Metal Rose recording in the studio this past Monday Night as she was laying down vocals for 2 brand new tracks on the upcoming sophmore album "Without A Trace"!!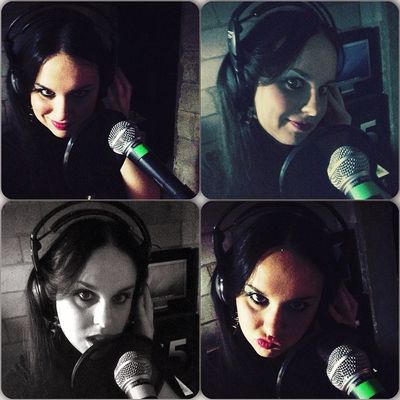 09/09/14:
Well, Summer is now Over and Fall is here!! And TonyBro and Metal Rose have been VERY busy in the studio writing and recording for the new album "Without A Trace" scheduled for a 1st quarter 2015 Release!! But with all that going on, in 2 weeks TonyBro will once again play his part in The 2014 Nick Gretina Fall Classic Wiffleball Tournament and Home Run Derby which will be held on Saturday, September 27th at Addice Park in Wanaque, NJ. All proceeds from the day will be donated to Hope with Heart. But before that, TonyBro will be with guitar mentor Metal Mike Chlasciak at the 2014 Inked Out New Jersey Tattoo Convention held at Meadowlands Expo Center in Secaucus, NJ on Saturday September 13! Be sure to swing by either, if not, both events!!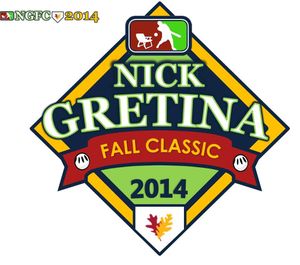 05/26/2014:
MAJOR UPDATE!!!!!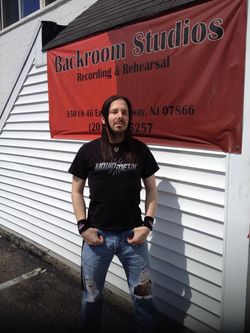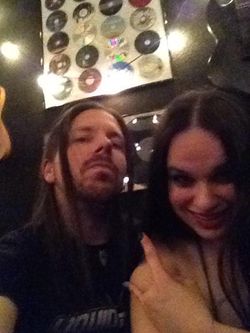 Hi Everyone!! So sorry for the lack of website updates recently, but things have been quite busy on our end over here. Where should we begin? I guess I'll pick up where we last left off. December 8th, showcased the VERY 1st time that TonyBro finally took the stage w/ guitar mentor Metal Mike Chlasciak of Halford as they performed the 1st ever Metal Heroes program w/ School of Rock - Wayne, NJ at the almighty DingBatz in Clifton, NJ. The show was such a huge success, that it ended up having a 2nd show, along w/ new students (even from out of state), back at Dingbatz on Sun March 16, 2014. And once again, the show was an even bigger success packing DingBatz w/ families and friends to witness the Metal Heroes tear down the house with an even bigger and much more difficult setlist that included songs by artists of AC/DC, Black Sabbath, Halford, Judas Priest, Dio, KISS, Scorpions, and Megadeth!! Shortly after, TonyBro invited singer Sandra from the Metal Heroes to record the title track of ORBYNOT's next album "Without A Trace". Not even an hour after they finished recording, TonyBro extended Sandra the offer to become ORBYNOT's official Lead Singer in which she happily accepted. You can also find her on her new website www.heavymetalrose.com! Now with ORBYNOT finally landing an official lead singer, things are going to start to pick up really quick for the band to where they already have studio dates booked to get this Sophomore album firing on all cylinders! Also on Wed April 9, 2014, ORBYNOT released its 1st track off of W.A.T., the sequel to Maiden's Kiss from the debut album called "Maiden's Wrath" on www.headbangerscafe.info as a World Premiere listening party which showcased Hillary Blaze of Judas Priestess/ Jaded on drums. Needless to say, that World Premiere more than quadrupled over the highest listener count that the show has seen. The track is not available for download or purchase, however, is available for streaming on the band's reverbnation page on www.reverbnation.com/orbynot. And of course with new updates, new singer, new album and songs, we have New Merch!! Yes!! We finally have new merch know as custom embroidered ORBYNOT wristbands!! They come in 2 different sizes 3 inch ($5 ea) and 5 inch ($7 ea) and are available in limited supply. Speaking of limited supply, the 1st batch of LDTS ORBYNOT T-shirts are almost Sold Out!! Get your shirts while supplies last!!
And be sure to follow us on www.facebook.com/orbynot and www.twitter.com/orbynot as those are the sites that get the most up to the minute updates!!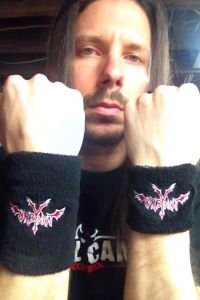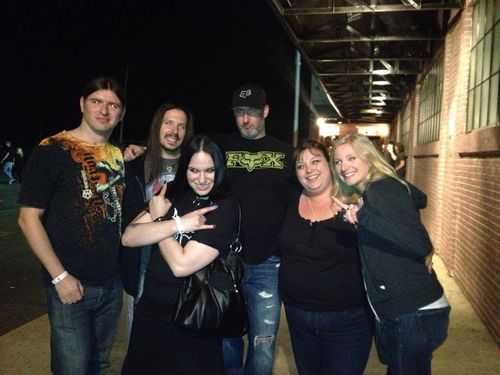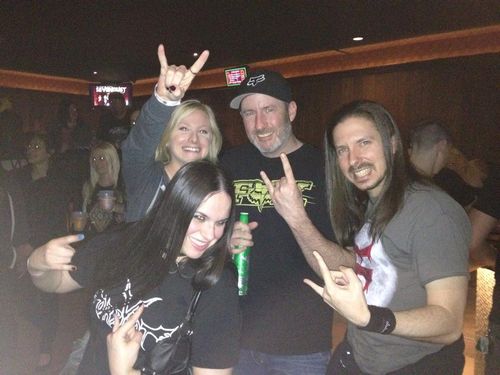 Here is also TonyBro, Sandra, and Oleg of Lyken21 hanging out w/ good friends Matt & Tess of The MGM Morning Show w/ Matt & Tess on South Jersey's Best Rock Station 103.7 WMGM Rocks!!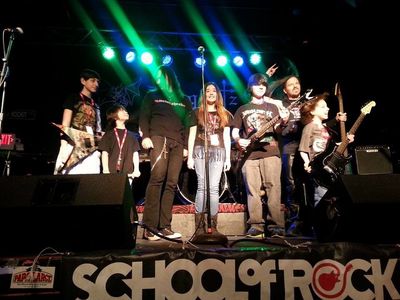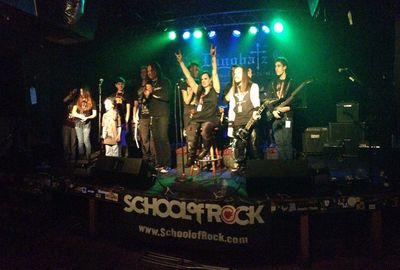 The Cast of Metal Heroes 2 back on Sun March 16, 2014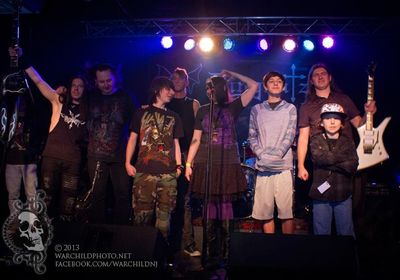 TonyBro along with Metal Mike, Sandra, Oleg of Lyken21, and the rest at the end of the 1st Metal Heroes on Dec 8th, 2013 Photo Credit: War Child Photography
11/27/2013:
Sunday December 8, 2013!!! DON'T MISS IT!!! ALL AGES!!!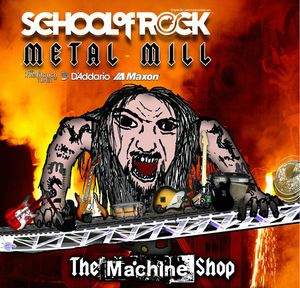 Well it took awhile, but the inevitable has finally arrived!!! After learning for the past 5 years, TonyBro of Orbynot is finally performing on stage w/ his guitar mentor METAL MIKE CHLASCIAK of Halford as they are ready to rock the stage and melt some faces!!! This is a School of Rock show that consists of 2 groups (17yrs and younger & 18yrs and Older). While the younger group will showcase the talents of tomorrow's rockers (& now TonyBro on Bass), the older group will feature TonyBro of ORBYNOT & Oleg of Lyken21 on Lead guitars!! Since this is an early Sunday afternoon show, there's no excuse to miss out!! So, come on out as mentor and students take the stage together for the 1st time!!!
 DingBatz
620 Vanhouten Ave, Clifton, NJ
Doors at 12pm, $6 Admission, ALL AGES!!!!
11/05/2013:
Back on October 18, 2013, TonyBro introduced to the music world his latest guest drummer for his newest upcoming ORBYNOT releases was none other than Hillary Blaze of Judas Priestess & Jaded!! Hillary, being a long time close friend, was 1 of 2 girls soley responsible for igniting the musical passion back into Tony (as mentioned in the Bio section). So it was only a matter of time before these two put their musical talents together.. and the end result is nothing short of amazing!! Stay tuned for further updates and sneak peaks...
10/01/2013:
TonyBro performed the National Anthem at the Nick Gretina Fall Classic 2013 charity event. "I had A LOT of fun doing this!! It was definitely amazing!! I look forward to doing this again and many more opportunities like this in the future!!" - Tony
9/21/2013:
Hope everyone had a great summer! While we get back into the swing of things and work on the immediate future of ORBYNOT, One week today, TonyBro will be performing the National Anthem at the annual local charity event Nick Gretina Fall Classic 2013. The event will be held on Saturday September 28 from 10am - 5pm at Addice Park, Wanaque NJ. All proceeds will be donated to the Hope With Heart foundation. For more information on the event and the history behind it, please visit www.nickgretinaclassic.com. Please come out and support a good cause!
7/17/2013:
Well it looks like our hard work is paying off!! Go into the Press/Reviews Section on the left to read the 1st reviews from our latest single "Hit It Up" (Feat Poc) available on iTunes, Amazon, CDBaby, and other digital download sites Now!!
6/18/2013:
Well, it's official. ORBYNOT is looking to put together a local band to do shows in the Northern NJ area. What's needed is a drummer, bassist, 2nd guitarist and singer. If you heard the material, then you know the vocal style I'm looking for in a singer would be Lzzy Hale of Halestorm/ Sebastian Bach and I would consider recording brand new material with this singer if they fit what I'm looking for. Serious inquiries only. If you know anyone that's capable/ interested, please contact me in the contact section to the left. Please include a youtube link if possible.
5/28/2013:
Well.... the day is Finally Here!!! ORBYNOT's latest single "Hit It Up" (feat. Poc) is released and available as a download exclusive!!! After having great feedback from their debut album "Try To Stop Me", ORBYNOT is back and better than ever. This time around they teamed up with the female rocker "POC" from Mexico as they bring you the 1st single they've done together "Hit It Up". Combining both of their styles in Rock/ Metal, "Hit It Up" is the kind of Song that fans have been waiting for. Download your copy today!!
(Click on the Pic)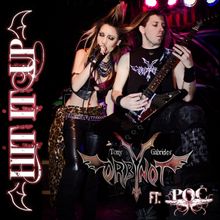 4/17/2013:
Tho I've been completely busy and side tracked lately, it almost slipped my mind that our Debut Album "Try To Stop Me" will be turning 1 Year Old on April 24!! So... as a Special Anniversary sale from now until the end of the month, download ORBYNOT's Debut album (mp3 only) for a special 1 Year Anniversary sale price of $4.99!! Exclusively here on CD Baby! That's less than $0.50 a song! https://www.cdbaby.com/cd/tonygabrielesorbynot
4/2/2013:
I just wanted to say Thank You to all of those who came out and supported us during the Poc performances last month! It was a Blast! Be sure to check out some of the pix in the Photo Section!!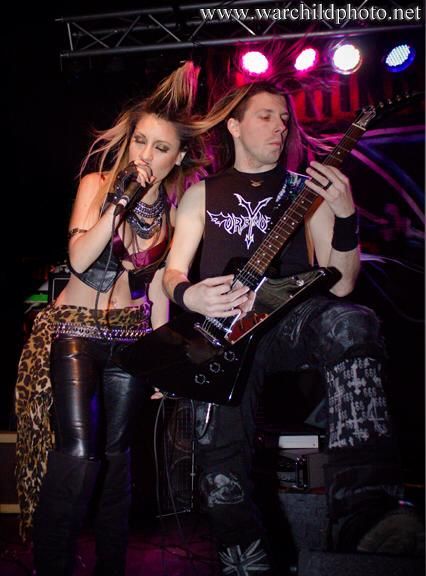 1/29/2013:
So How are we starting out 2013?? TonyBro will be playing Lead Guitar for the International Rocker POC while she will be in the NY/NJ Area!! Confirmed Dates are:
Thursday March 7, 2013- Fontana's in NYC, NY
Sunday March 10, 2013- DingBatz in Clifton, NJ
Will we see YOU at a show??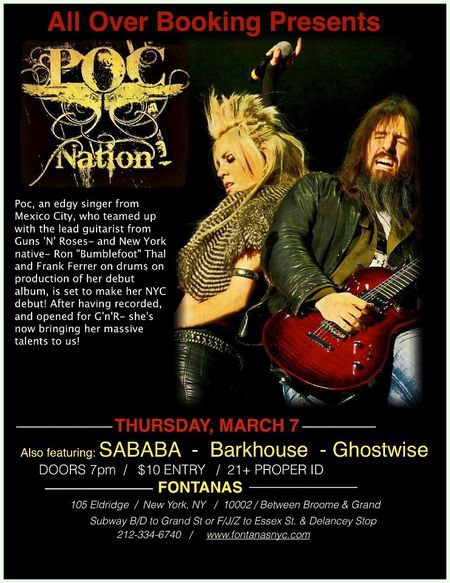 10/25/2012:
Wanna have a listen to the anticipated new releases? Here's a Sneak Preview/ Behind the Scenes as we recorded drums back on Saturday October 13, 2012 at AARIUS Studios in Sayerville, NJ!!! Enjoy!!
 10/16/2012:
This past weekend, TonyBro & Metal J went back into AARIUS Studios of Sayerville, NJ and started recording drums for a bunch of upcoming New releases. TonyBro says, "I'm VERY excited about these new songs! There's New Styles, New Sounds, ALL Brand New Guests, and most importantly, Brand New F*ckin' ATTITUDE!! Can't WAIT to get these bad boys done & share them with you ALL!!" ...stay tuned \m/...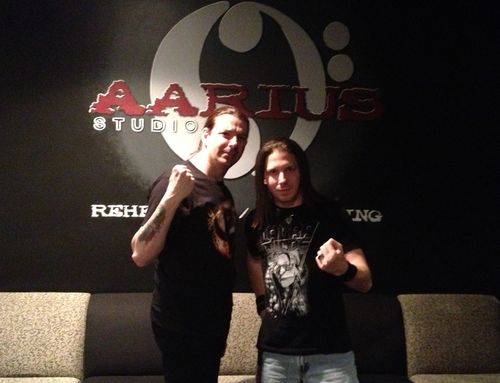 10/03/2012:
We here at ORBYNOT have a Special Announcement that we will be making Next Week!! Stay Tuned....!!!!
07/10/2012:
A Special Message from TonyBro:
I wanna say Thank You for all the support, fans, and new followers we've received recently!! You All Rock!!! As a Special thanks, for a limited time & Exclusively thru CDBaby, you can Download our Debut Album for the low price of $6.99!!! (mp3 album only) http://www.cdbaby.com/cd/tonygabrielesorbynot
This Wednesday June 27, 2012 tune in at 9PM!!
http://krykey.com/Radio/PRSPage.aspx?id=4338
http://headbangers-cafe.wix.com/headbangerscafe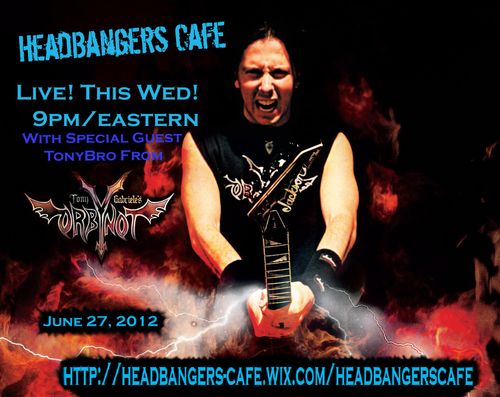 6/16/12: Just Released!! TonyBro's 1st Interview with Rocks Metal Hour!!!
5/17/2012: "Riff In Peace" (Official Lyrics) Video Released!!
05/13/2012: JUST Released!!! Official Lyrics Music Video!!! Check It Out!!!!
"TRY TO STOP ME" AVAILABLE NOW!!!!!! 
Check out our Web Store, CDBaby, iTunes, and Amazon.com!!!
The Official Release Date for "Try To Stop Me" is Tuesday April 24, 2012!!!
WELCOME TO ORBYNOT.COM!!!
The Debut album of Tony Gabriele's ORBYNOT: "Try To Stop Me" is almost here!
Welcome to www.ORBYNOT.com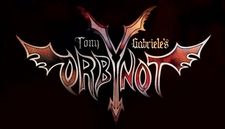 Click here for ALL of our sites on Linktr.ee
Check Out the "Ripped to Shreds" Lyric Video
Previous events
The Stanhope House, 45 Main St, Stanhope, NJ
$15
Brighton Bar, Long Branch, NJ
$12 ADV $15 Day of Show
Dingbatz, 620 Van Houten Ave, Clifton, NJ
Parking is VERY limited, but there is a huge open parking lot one block up the road next to Clifton Savings & across the street from Shook funeral home.
$10.00
Introducing Hillary Blaze