Tony "TonyBro" Gabriele - Lead Guitar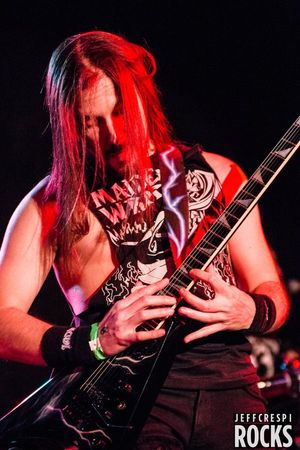 Back on April 8, 2002, Tony picked up his first guitar and music has never been the same to him ever since. Influenced by a female friend at the age of 19, Tony started taking guitar lessons at the local community college, but started to lose interest until May 6, 2006. There he met and became friends with Boston rockers Britt Lightning and Hillary Blaze from the band JADED at the NY KISS Expo. Tony was blown away by their performance, especially when they performed on stage with Metal Mike Chlasciak of Halford. Since that day, Tony's childhood dream was rediscovered and revitalized. Less than 2 years later, Tony saw an ad online that read "Metal Mike's Metal Day Workshop" that was being held at Aarius Studios in Sayerville, NJ. Seeing that, Tony immediately applied to learn from one of the best the metal world has to offer. On February 2, 2008, Tony met Metal Mike and within minutes Mike saw how serious Tony was about becoming a musician. From that day, not only did Tony's life change, but he also became Metal Mike's personal student. Later in the Fall, Tony was very adament about playing his first local show, that he enlisted a good friend to sing for him. Since no one took Tony seriously when it came to the "band thing", he had no choice but to play lead guitar along with backing tracks that he recorded himself while his friend sang. Although there were 4 shows in total at the local bar, in which the last one was with a 2nd female guitarist that didn't last too long, Tony had no choice but to put ORBYNOT on the back burner since the singer was treating the band like a joke. In July of 2009, Tony's weekly lessons with Metal Mike started to become weekly recordings since Mike gave Tony the idea to go the next step. From one song, they recorded two, then three and so forth since they got in such a groove. On November 19, 2009, Mike reintroduced Tony to his good friend Metal J for whom Tony met earlier that year. With the talk of a debut album in the air, Metal J offered his 25+ years of drumming experience and a metal friendship was born. On the weekend of December 11, 2010, Tony and Metal J went into Aarius Studios and recorded the drum tracks for the yet to be named debut album. In early 2011, Metal J suggested and enlisted "ScreamKing" Joe Lawson from Indiana to be the singer. But due to a tight schedule, "ScreamKing" was only able to do five tracks. So then throughout 2011, Metal J was able to enlist Sarah Teets from Pennsylvania to do three tracks, Sean Peck (Cage) from California to do a guest vocals track, and also "Kobra" Paige (Kobra & The Lotus) who ended up recording her guest vocals track in Canada. Now with ORBYNOT's debut album "Try To Stop Me" finally seeing the light of day, Tony is finally ready to prove to the world that the past 2 1/2 years of hard work, sacrifice, patience and determination is finally paying off. In early 2013, TonyBro ended up meeting the Mexican rocker from Mexico City, Poc. After hearing what he was capable of on guitar, she enlisted him to play a few shows for her on Lead guitar while she was in the NJ/NY area. Since they had such great musical chemistry together, Tony ended up inviting her to do guest vocals on a new ORBYNOT track and the single "Hit It Up" was created. This goes to show there are no barriers in Tony's way when it comes to ORBYNOT! On October 18, 2013, Tony finally went into the studio with long time friend Hillary Blaze of Judas Priestess/Jaded. Though the talk between the two of them for many years was to have a show together, Tony came up with the idea that it'd be more meaningful if the two of them would one day put their talents together in the studio. Well, eventually that day finally came and it was nothing short of amazing! Hillary brought the fire and then some putting her stamp on the ORBYNOT family.
Welcome to www.ORBYNOT.com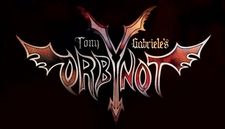 Click here for ALL of our sites on Linktr.ee
Check Out the "Bury the Dead" Music Video
Previous events
The Stanhope House, 45 Main St, Stanhope, NJ
$15
Brighton Bar, Long Branch, NJ
$12 ADV $15 Day of Show
Dingbatz, 620 Van Houten Ave, Clifton, NJ
Parking is VERY limited, but there is a huge open parking lot one block up the road next to Clifton Savings & across the street from Shook funeral home.
$10.00
Introducing Hillary Blaze